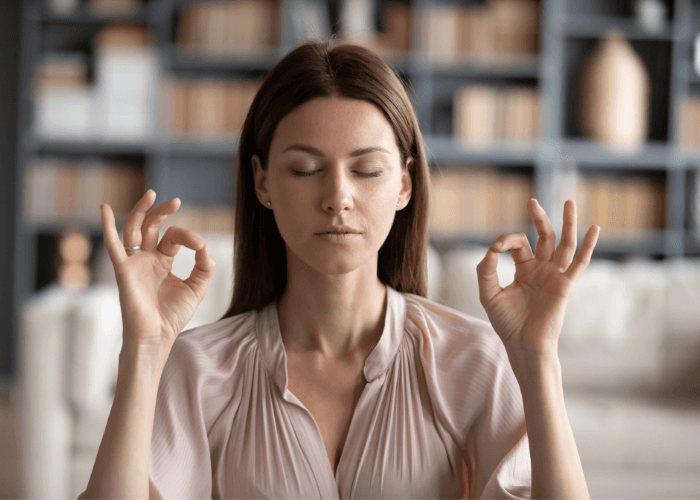 How to Deal With Anxiety at Work
Do you often feel the mental tension building up before you even arrive at your workplace? The good news is bad news; there are millions out there who feel just the same.
Anxiety affects millions of people around the globe, cutting across diverse age, gender, and cultural demographics. As one of the most persistent mental health challenges in the modern world, it is most noticeable in the workplace, where high-pressure situations are often the norm.
If you're prone to anxiety attacks and a generalized feeling of anxiousness, it's no surprise that the long hours, difficult coworkers, and pressing deadlines can all contribute to the problem.
Luckily, there are ways to tackle anxiety and regain control of how you feel at your workplace. So, in the following paragraphs, we will explore the various factors contributing to workplace anxiety, its most common symptoms, and some practical tips for managing the situation before it gets out of control.
What is Workplace Anxiety: Definition and Statistics
Workplace anxiety refers to the feelings of nervousness, fear, and unease that can arise and persist in a work environment. These feelings can be triggered by your colleagues, tasks, or the general workplace atmosphere.
Typical symptoms include excessive worry, racing thoughts, difficulty concentrating, and increased irritability. Meanwhile, physical symptoms can also occur, such as excessive sweating, shaking hands, and heart palpitations.
According to a survey by the Anxiety and Depression Association of America, three-fourths of people who feel stressed out at work report that the tension carries over to their personal life.
Research also suggests that anxiety-related disorders are the second leading cause of workplace absenteeism, costing employers billions of dollars in lost productivity annually.
Given the facts above, we can easily assume that workplace anxiety is both a significant factor in one's overall well-being and a fundamental problem that employers need to understand and address.
Top 10 Causes of Anxiety in the Workplace
There are various workplace anxiety causes and identifying your triggers can be the first step in handling them in the long term. So, let's bring up the curtain and explore ten of the most frequent reasons for feeling uneasy while at work.
#1 Workload and Deadlines
The mounting workloads, suffocating deadlines, and towering expectations can build a sense of pressure and stress that can trigger anxiety. Individuals who struggle to manage their workload or feel flooded by the demands of their superiors or clients may be more susceptible to anxiety attacks.
In addition, the constant buzz of tasks that need to be accomplished can leave workers feeling overwhelmed, and unrealistic time frames can add to their workplace anxiety.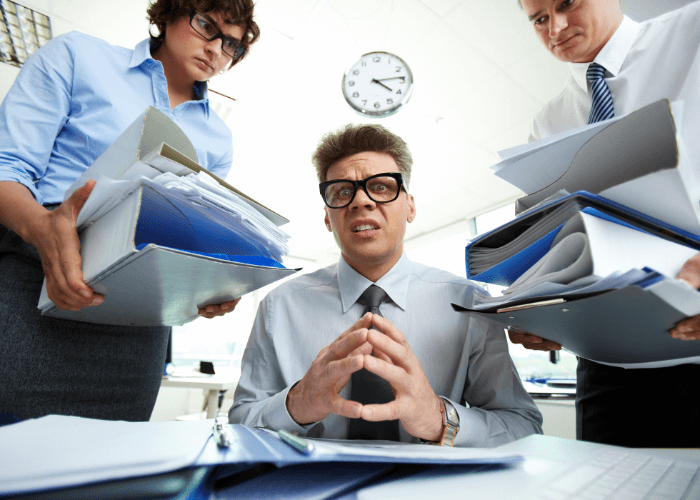 #2 Interpersonal Conflicts and Workplace Bullying
Conflict with coworkers or supervisors, workplace bullying, or feeling excluded can add to the social anxiety at work. A workplace lacking a positive, supportive culture can also increase employees' feelings of constant and undefined dread.
Workers who feel they are not valued or heard may experience nervousness, leading to decreased productivity and a lack of motivation.
#3 Lack of Control
Experiencing a lack of agency in managing your workload or schedule can also give rise to a pervasive sense of debasement that may worsen your anxiety.
Surveys suggest that those who perceive themselves as having little influence over their workload or career path may become particularly susceptible to anxiety. In addition, feelings of helplessness may feed into the already scaling distress, leaving individuals feeling trapped in a closed circle.
#4 Job Insecurity
The mere thought of losing one's job or the fear of instability in one's career can induce an immediate negative reaction in a person. People who have undergone job loss or downsizing previously may be more prone to experiencing anxiety related to job security. The unpredictable nature of their occupation status can give rise to stress and anxiety, adversely impacting their and even their families' mental well-being.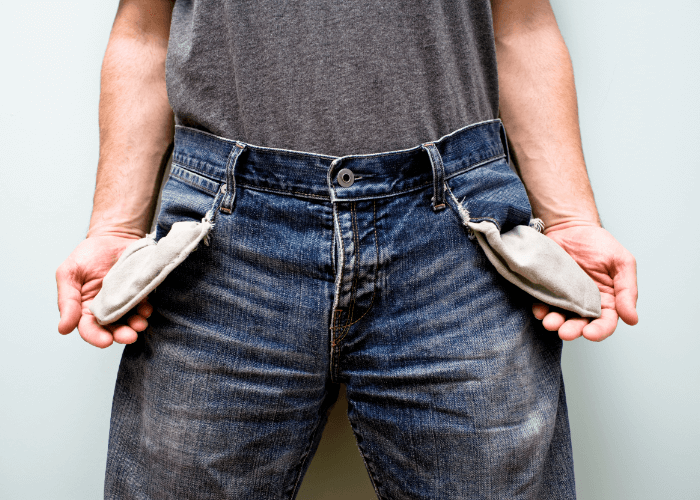 #5 Poor Work-life Balance
Trying to juggle work and personal responsibilities can be a lot to handle, and not having enough time for self-care can intensify workplace anxiety. In addition, people who sense their job has become all-consuming may be at greater risk of developing long-term mental health issues. These include but are not limited to generalized anxiety, depression, and even substance abuse.
#6 Poor Job Satisfaction
It's common for people to experience anxiety when they feel that their work doesn't hold personal significance or lacks alignment with their values.
The dissatisfaction can cause a downward spiral, where lack of motivation feeds into anxiety levels, and vice versa. In such cases, it's essential to assess the reasons behind the dissatisfaction and explore alternatives to bring greater meaning to one's work.
#7 Organizational Change
Staff can quickly develop anxiety when confronted with corporate transformations, such as organizational restructuring, downsizing, or alterations in top-level management. That's especially valid for people who bear skepticism about their place in the hierarchy or the future trajectory of the business.
The executive personnel in charge have a crucial role in providing certainty and elucidation along the process. By expressing themselves openly and transparently, they can foster a feeling of calm and confidence among employees.
#8 Poor Communication
Insufficient communication, ambiguous prospects, or substandard feedback have never made a workplace environment any better. Employees who don't have the necessary details to perform their duties or are not receiving satisfactory assistance from their colleagues or supervisors can (quite logically) feel uncomfortable and worried. In addition, poor intercommunication can create a feeling of seclusion, contributing to employee anxiety and strain.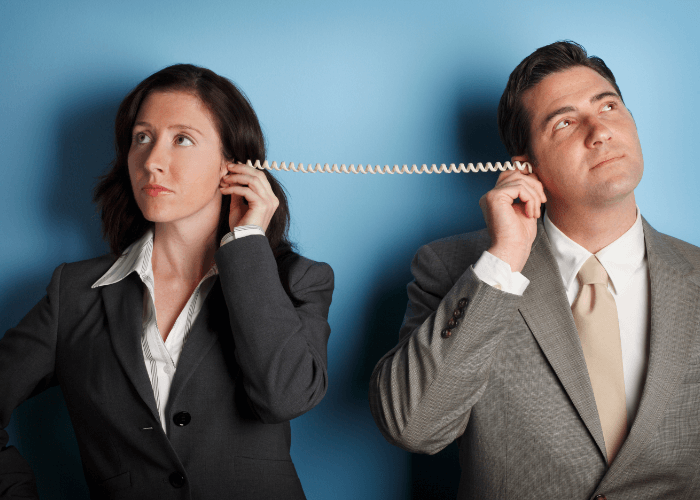 #9 Physical Work Environment
Unpleasant work settings are proven to both originate and deepen workplace concerns. These can be loud clamor, no access to enough daylight, an uncomfortable seat, or any other profession-specific physical discomfort.
Workers who lack a secure or cozy workplace start to automatically correlate between discomfort and work. That's ultimately a ground for developing some not-so-pleasant associations with the place of employment.
#10 Trauma
Witnessing an incident, acts of violence, or workplace bullying is more challenging for some people to take. Individuals who have faced such trauma might be more susceptible to work-related anxiety, even if they change their workplace or settle the conflict.
The reason is that the mere recollection of the traumatic event can incite feelings of panic and anxiety, leading to reduced efficiency and drive.
It's worth noting that some individuals may be more prone to anxiety than others, regardless of their workplace environment. Factors such as genetics, family history, and personal life experiences can all contribute to an individual's predisposition for anxiety.
How To Manage Anxiety At Work
Fortunately, there are several strategies individuals can use to manage anxiety in the workplace.
Here are some practical tips to help you manage how you feel:
Identify the cause. Try to specify what's causing your anxiety and address it directly. If it's a workload issue, talk to your supervisor about adapting your assignments. In the case of a colleague conflict, attempt to resolve the matter through communication or mediation.
Practice relaxation techniques such as deep breathing, meditation, or grounding techniques for anxiety. These techniques can help you relax your mind and body and relieve stress and tension.
Seek support from friends, family, or a mental health professional. Discussing your emotions with someone can help you process them and gain a different perspective.
Establish boundaries in your work schedule and make time for self-care. In addition, you can take regular breaks throughout the day to stretch, walk, or do something you enjoy.
Learn self-empathy and show kindness to yourself. Remember that uneasiness is a normal human response, and it is acceptable to experience anxiety occasionally.
Stay methodical – formulate a to-do list and prioritize tasks to remain systematic. This can aid you in handling your workload more efficiently and diminish the feelings of being overburdened.
Guarantee your sound sleep each night, as sleep deprivation can intensify anxiety and stress by altering the hormonal balance in your body.
Convert pessimistic self-talk into positive assertions to help decrease anxiety. You can root out negative thought patterns by doing daily exercises and tracking your progress.
Use humor to lighten the mood and reduce tension in the workplace. Laughing can help reduce stress and face challenges with a healthy dose of wit.
If you're feeling particularly overwhelmed, consider taking a mental health day off to recharge and refocus. Taking time off can help you gain perspective and return to work feeling refreshed and rejuvenated.
If workplace anxiety persists or worsens despite your best efforts, it may be time to consider whether your job is the right fit for you and whether it's time to make a change. Remember – your mental health and well-being should always come first.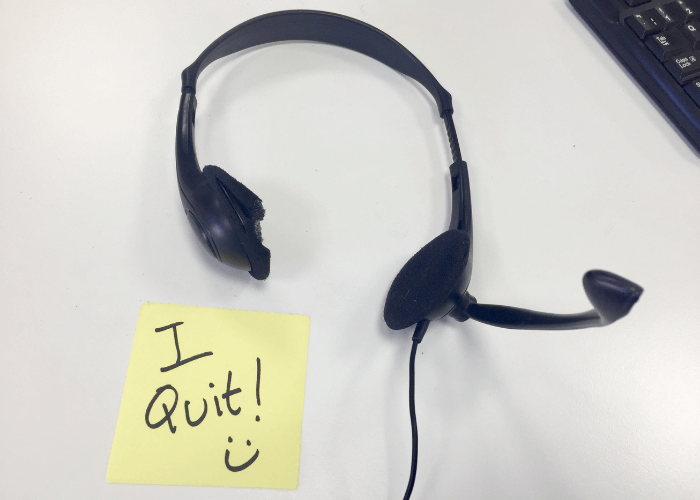 Anxiety at Work: When To Quit?
The first and most certain red flag would be the physical symptoms of workplace anxiety, such as recurrent headaches, stomach problems, or insomnia. If you have these, it may be time to revisit whether your job contributes to your health issues and leave it behind if it does.
If you dread going to work each day and can't shake the feeling of anxiety, it may also be time to ask yourself whether your job is causing more harm than good. This is especially true if you have a well-known anxiety trigger you've tried to discuss and resolve before that still hasn't changed.
Some other signs that the positives of quitting might outweigh the negatives include:
Your values don't align with the company's values;
You're not growing or learning;
The work environment is toxic:
Your mental health is getting worse;
You have a better job opportunity;
You feel unable to voice concerns or provide feedback;
You face unfair treatment or favoritism, etc.
Last but not least – you might just feel your gut telling you it's time to go. Sometimes, intuition knows better than rational arguments – so trust it. Maybe it's just time to move on and replace workplace anxiety with inspiration, motivation, and fulfillment.